For some, the quite monumental ascent from an aspiring student in the United States to a globally acclaimed chef of international repute may be remarkable. But for Dharshan Munidasa the very simple answer also lies in the contrast.
"In school, I started cooking for myself because food in America was really bad. That's more of a necessity that I got into cooking and I applied common sense and engineering if you will," a smiling Munidasa recounted his humble beginning during his time as a student at the prestigious Johns Hopkins University, USA.

Born to a Sri Lankan father and Japanese mother, Munidasa who is not a trained chef, refuses to over-complicate his success but sticks to the basic human desire for good food.

That is precisely how he simplifies it, and for him, his story is not as extraordinary most would have it to be.

"It's not a leap or anything. We as humans we eat three meals a day. So it was just paying more attention and wanting better. That's all," he simply explained.
Despite his modest ethos, Munidasa is the founder of three flagship restaurants. Nihonbashi, a restaurant serving authentic Japanese food, which has the distinction of being the first Sri Lankan restaurant to have ever made it to Asia's 50 Best Restaurants List, The Ministry of Crab, a restaurant that takes pride in serving fresh export quality Sri Lankan lagoon crabs and has been ranked in Asia's top 50 restaurant list for the fifth consecutive year in 2019, and Kaema Sutra – that specializes in contemporary Sri Lankan cuisine.
Being half Japanese, Munidasa's love for the ocean is unparalleled, and naturally, he has been gracing the sandy white shores and crystal clear blue waters of the Maldives for over two decades.

In September last year, Ministry of Crab's sixth outlet opened at The Marina @ Crossroads Maldives, a reclaimed group of islands in the stunning Emboodhoo lagoon - just a stone throw away from the capital Male. The second quickly followed at the turn of this year under his flagship umbrella and aptly named, Nihonbashi Blue, testament in name and design to the unique Maldivian landscape.
Munidasa described the decision to venture in to the Maldives as an ideal opportunity which ultimately was not difficult to make.

"It's a million dollar view. We cannot have this color of water in Sri Lanka so close by. We get to do it and that's a privilege," Munidasa said expressing hope that more locals and expatriates in Male' would be attracted by the "great hotels and great food" at The Marina @ Crossroads Maldives.
A tribute to Japanese roots
Since Nihonbashi first opened its doors over 25 years ago, Munidasa has continued to expand his repertoire of culinary genius of diverse nature across several countries.

But from MOC to his latest addition, a steak restaurant at Crossroads called Carne Diem, Munidasa said all of his ventures have their roots at Nihonbashi – where it all began.

Despite boasting an array of the finest restaurants, Munidasa has never attempted to merge Japanese cuisine with any other – perhaps attributed to his utter dislike for fusion food.

But unlike most, Munidasa believes his origins have afforded him the unique ability to master the rather contrasting nature of his culinary innovations.
"Its in my DNA. Its in my blood. Being half Japanese and half Sri Lankan, when you speak two languages there are two ways of doing it. One is thinking in one and translating to the other in your head. Or thinking in two," he explained.

He added that the skill he has mastered over the years, offers him the ability to think in two languages and translate them to his palates.

"…then you bring that same example to your tongue. You have the same tongue, but you can appreciate food at two different wavelengths. So I think that's where the contrast for me is not that huge because they're both a part of me," he continued.
A good kind of obsession
Perhaps that very edge Munidasa benefits from his Japanese roots, also fuels his obsession for fresh ingredients. And Munidasa does not mind associating his unyielding prerequisite for fresh ingredients with the word "obsession" because for him it is "everything."

In every one of his outlets, regardless of the gastronomic delight he is cooking up, Munidasa combines the best ingredients with traditional Japanese techniques.

"I think it is probably the most important thing in a kitchen. There are so many beautiful hotels here but none of them go to the lengths we do," he said.

The "lengths" Munidasa so casually refers to might sound ridiculous to most of his ilk. MOC has a constitution of its own with a long list of Articles including its no freezer policy.
"Our chickens are not frozen chicken. We're buying fresh chicken from Sri Lanka," he said.

Even the MOC outlet at crossroads is built on the foundation that prioritizes the freshness of ingredients, and the finest Sri Lankan lagoon crabs are air flown thrice a week to Maldives to uphold such high standards.
One could understand crabs being flown in from a neighbouring country. But Munidasa's passion dictates that almost everything from lemons, to ginger to spices also arrive fresh from Sri Lanka.

"Ministry of Crab has a no freezer policy. We don't even have a freezer. We don't buy anything frozen. We don't freeze anything. We don't even have ice cream for that matter," Munidasa added highlighting the immense challenge in logistics.

Despite the challenges, Munidasa's principles are etched in his belief that good food is not made with the cheapest ingredient or the ones easiest to find.
But his Japanese roots does not shadow Munidasa's love for locally-sourced ingredients.

Similar to Munidasa's signature green juice drink Centella - primarily made from 'Gotukola' served in all of his restaurants in Sri Lanka, the MOC outlet in Maldives serves spicy valhoamas chahan - inspired by Maldivian dried tuna to rival any local dish.
Explicit aesthetics
It's not only the freshest ingredients, but the way his food is served also holds special significance for Munidasa. From the shape and size of each and every crab to the unique origami napkins in each of the six MOC outlets, the attention to detail Munidasa demands is truly astounding.

For the MOC outlet in Maldives, the heliconia flower - popularly known as lobster or crab-claw is shipped every week from Sri Lanka that according to Munidasa exemplifies an honesty in the food it serves.

"It shows that we are not fake. You get fake flowers that look really real now. You can just buy it once and put it there. But we are honest about our food, our décor," he explained.
Such unique aesthetics is not limited to just the MOC outlet in Maldives. Munidasa's latest venture, Carne Diem also boasts a décor of its own which is accentuated by a special leaf that is also flown in from Sri Lanka.

"If you go to Carne Diem now there are 10 to 12 huge elephant ear leaves. In Sri Lanka, they used to wrap beef in those leaves yourself. So that connection is a coincidence, which now makes it a nice story now," Munidasa said with a huge grin masking a sense of pride.
But the elephant ear leaf is not only the unique aspect in Carne Diem. Munidasa's latest initiative boasts a custom-built grill which he invented that fires at over 750 degrees for the premium steaks it serves.

"We don't give you any sauce. No bearnaise sauce. No mushroom sauce. Nothing. It's just pure steak," he said.

Modest to a fault
Despite his many successes, Munidasa rates his greatest achievement for being recognized by the Japanese government where he was awarded the Japanese Ambassador's Special Commendation as well as The Minister's Award for Overseas Promotion of Japanese Food.

"Japanese government gave me an award in 2014. You know what they give to five people every year and they choose five people who have done service to promote Japanese food culture outside Japan. So that was a big one," he said.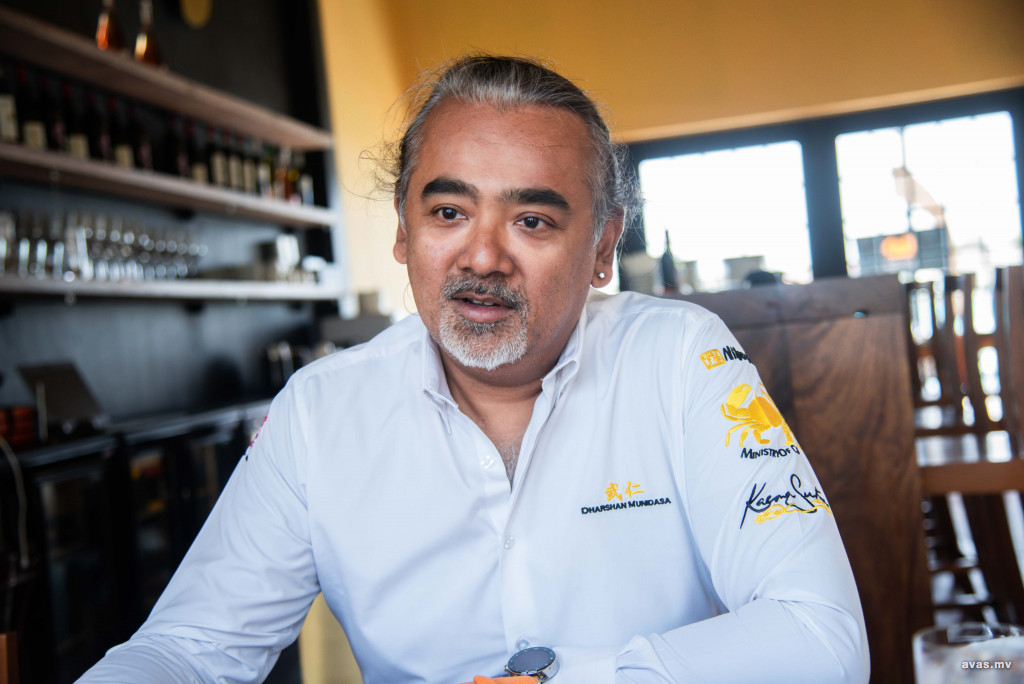 But Munidasa also takes great pride in the rave reviews he gets from the customers he serves.
"…the biggest achievement is hearing people say like wow, that was great," Munidasa said adding that even other chefs heaping praise on his dishes remains a true success.

"…to get that every day is our biggest goal and the hardest thing to do. But that's what our job description is all about as a restaurant."