It's official. Incumbent Maldives president Abdulla Yameen has had his wish. It's been a long time coming. A full presidential term to be precise. But self-exiled former president Mohamed Nasheed has been taken out of the presidential equation. Arguably, the final and most 'dangerous' obstacle to president Yameen's re-election hopes has been 'extinguished.'
Having scripted the fate of almost all opposition leaders, proponents of Yameen's government would have hardly believed their luck when Nasheed 'voluntarily' forfeited his presidential ticket for the September elections. Not that Nasheed would have been allowed to contest as repeatedly stressed by top government officials while the same is echoed by the country's electoral watchdog.
But to 'disqualify' a rather stubborn Nasheed so close to the elections would have invited even more international pressure on the already embattled president Yameen and his government. Nasheed 'voluntarily' withdrawing from the race now paves the way for the government to truly justify an 'inclusive' elections minus the international pressure.
However, with his main out of the picture, can president Yameen truly hope to win a 'Nasheed-less' election.
A new dawn with a new leader
Nasheed's expected but still shocking exit from the race has caused a seismic shift in Maldives politics. Veteran opposition lawmaker Ibrahim Mohamed Solih has now been named as Nasheed's replacement. One could say with the 'usual suspects' ruled out either by a criminal conviction or a threat of one, the soft spoken yet articulate Solih who has served as an astute lawmaker since 1995 was a fitting and the logical choice. After all, Solih has been the glue that has held a fragile alliance together even since its inception. He has truly been the face and the unwavering voice of the opposition as it battled through months of relentless government crackdown.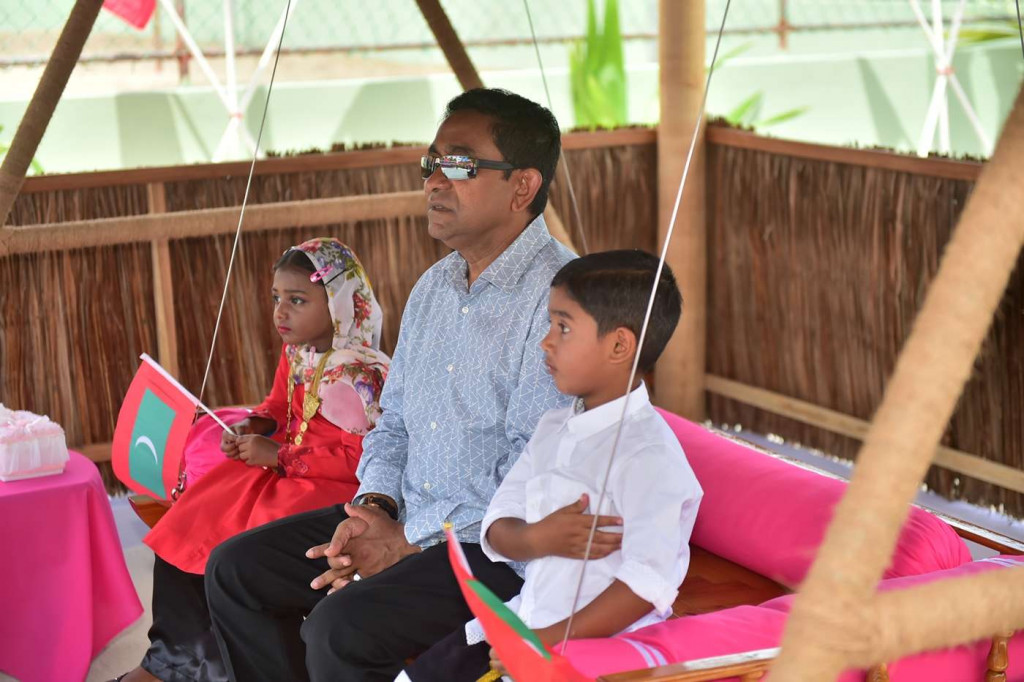 Did Yameen 'want' Solih?
It may or may not be a coincidence that Solih was first tipped as the 'worthy' opposition candidate months before Nasheed took himself out of the race. It's no secret that the top ruling party lawmakers are the first line of defence and offence of president Yameen's policies and decisions. Especially the contentious ones. And its hard to imagine that they would 'hint' at and sing high praises of Solih's nomination without president Yameen's blessing. So its safe to say that Yameen wanted to avoid going head to head with Nasheed or any of the opposition party leaders as he hopes to secure a second term in office.
That maybe wise thinking albeit to a point. From a historical standpoint, avoiding or removing rivals with widespread public support would be the way to go and would certainly be the more prudent option to go up against a presidential 'newbie.' Or more crucially, president Yameen certain to face major graft inquiries if he were to lose the elections, feel more confident of 'negotiating a deal' with Solih he must know pretty well from his many years as a parliamentarian.
Interim govt promise unites
Nasheed's refusal to back-down has left the opposition alliance he had formed with former president Maumoon Abdul Gayoom and the remaining two opposition leaders - Gasim Ibarhim and Sheikh Imran Adbulla on the brink of collapse. It was rather clear that neither of the other opposition leaders fancied Nasheed as the alliance candidate. Before Nasheed forfeited his ticket, Gasim was adamant on nominating himself while Imran's Adhaalaath Party was looking around in bemusement.

But Nasheed's withdrawal and Solih's nomination has revitalized the once divided opposition. Here was a name the four leaders with their huge egos and even bigger political ambitions could rally behind. The ideal 'step back' they could easily digest until Yameen can be removed and they can mount a presidency challenge of their own. And that is exactly what Solih and MDP has promised the alliance. An interim government with Solih at the helm to lead for 18 months before early elections. Gasim gets the added incentive of being the 'proxy' vice president as his party gets to nominate Solih's running mate. What the now jailed former strongman Gayoom has been promised remains unknown. But its increasingly likely that Gayoom's lawmaker son Faris Maumoon who is also jailed might have been swayed by the promise of 'third place' or the prospect of parliament speaker. The religiously conservative Adhaalath Party won't be left out with a generous slice of top cabinet posts.
Despite what an alliance government would offer, the clincher for the cream of Maldives politics would be the promise of an election in less than half a presidential term would be too mouthwatering to turn down. This fact has already been laid bare as Gasim's party along with Adhaalath Party have been quick to back Solih as the coalition candidate.
Nasheed better than a united opposition?
If president Yameen somehow allowed Nasheed to contest it would have been the end of the opposition alliance. Nasheed maybe the single most popular leader in the country. But as proved by the 2013 elections, he alone would not be able to tip the elections in his favour. Both the past and present political landscape suggests that no candidate would be able to pull off a first round win without any support. So the likely scenario that a repeat of 2013 elections could have been on the cards for president Yameen. With the alliance broken up, president Yameen would have had a better chance of convincing one of his rivals to back him instead of Nasheed. Precisely what transpired in 2013 which ultimately allowed to him beat Nasheed.

However, the opposition now united, Yameen simply cannot better what Solih and MDP has offered. The best he can offer is release from prison, cabinet posts and maybe an alliance for the parliamentary elections. But Solih has already offered all that and one better. One that president Yameen cannot or would not be willing to match. An election in just 18 months. A chance for Nasheed, Gasim and maybe even Gayoom to contest for the presidency.
If one looks at the figures from the first round of the 2013 elections, it would be grim reading for president Yameen. He only managed a shade over 25 percent on his own. Even that was with his elder half brother's support which he no longer has. Solih is no Nasheed. But the majority of Nasheed's loyal supporters would happily cast their votes for anyone who has his blessing. Gasim's supporters has already proven that by voting for Yameen in the second round five years ago. So the same could be expected for Solih in September. President Yameen is truly facing the threat of a major upset which could end in just one round. He may have misread his rivals which unfortunately for him has been a recurring theme in the recent past. His insistence on denying Nasheed's candidacy could come back to haunt him.