Maldives Airports Company (MACL) has revealed that the majority of work in laying the foundation of the new international terminal has been completed.
According to MACL's Associate General Manager Hassan Areef, the terminal's foundation is now complete. The ground work of the terminal has now commenced, he said.
1600 piles have been installed. Next would be the grounds work to install the building.

--- Hassan Areef.
MACL said the terminal would be a prefabricated building being imported from overseas.

Saudi's Bin Laden Group was assigned with the development of the new passenger terminal of Velana International Airport (VIA) - the largest segment of the developmental project - three years ago on May 21, 2016. While the project was to be completed within two years, the company faced some delays. The project was delayed further when the government changed in 2018, however, the project was once again assigned to Bin Laden Group on June 27, 2019.
A terminal with Maldivian features
While speaking at a ceremony held to reassign the project, MACL Infrastructure Development's General Manager Mohamed Solih stated that though the work had been reassigned, there were no changes brought to the project cost. Solih said the new changes would feature Maldivian styles. Speaking to the media, Solih said the design of the terminal would be ready within three months.
Even before, there were concerns about the interior design, which is why we have brought changes. The terminal will be the first thing a tourist sees upon their arrival, so its only fitting that we adopt Maldivian designs that represent our country.

--- Mohamed Solih.
The new passenger terminal is spread over an area of 78,000 sq ft. The government assures that the terminal will be completed by May 2022.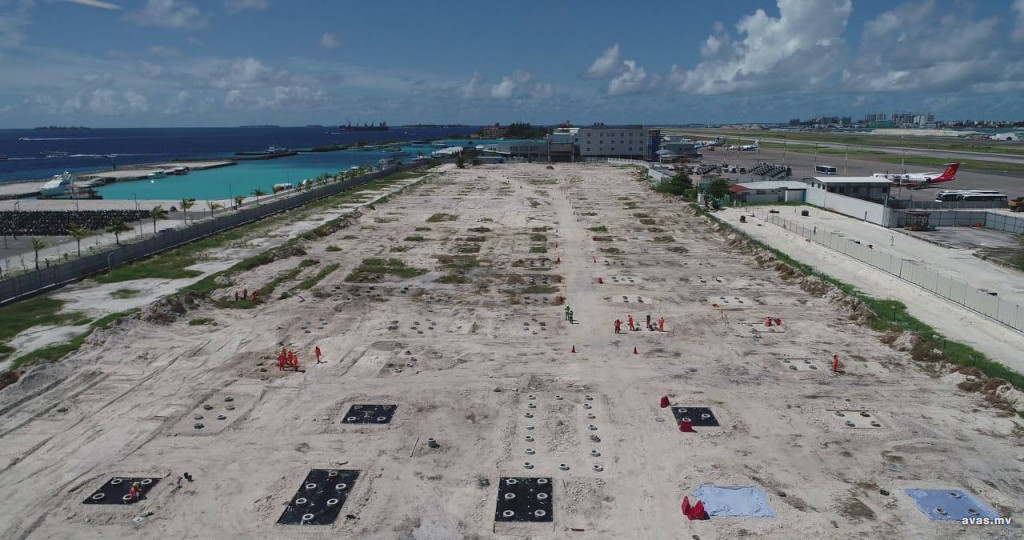 Terminal features - arrivals
- 6 aero bridges
- 1,500 sqm floor area.
- 28 counters
- 345 meter long belt
- 7 E-Gates
- 24 seaplane check-in counters
- 1,000 sq ft tourist reception counter
- 19 resort lounges
Terminal features - departures
- 2,500 sq ft check-in and screening area
- 50 check-in counters
- 20 counters
- 6 E-Gates
- 1,500 sq ft screening area
- 10 screening machines
- 1,800 sq ft VIP lounge areas
- 2 isolated holding rooms
- 10 gates
The new terminal can cater to around 6 million people on a yearly basis. Saudi's Bin-Laden Group accepted the project for US$ 350 million The expenses will be handled by a consortium between the Saudi, Abu Dhabi and Kuwait fund.