The fire-fighting being established at Velana International Airport (VIA)'s fuel farm will be ready by March 2020.

Maldives Airports Company Limited (MACL) that operates and manages the country's main airport on Tuesday revealed during a media tour of the project that if the work goes ahead as scheduled, the fire station will be complete by March.

"We are conforming to the highest standards when building this [fire-station]. The work is ongoing as scheduled," said Mohamed Niyaz, the Deputy Chief Officer of MACL.

The fire fighting station is being developed in the ocean area directly off the fuel farm. With pillars driven 30 meters below water, it is reinforced further using concrete.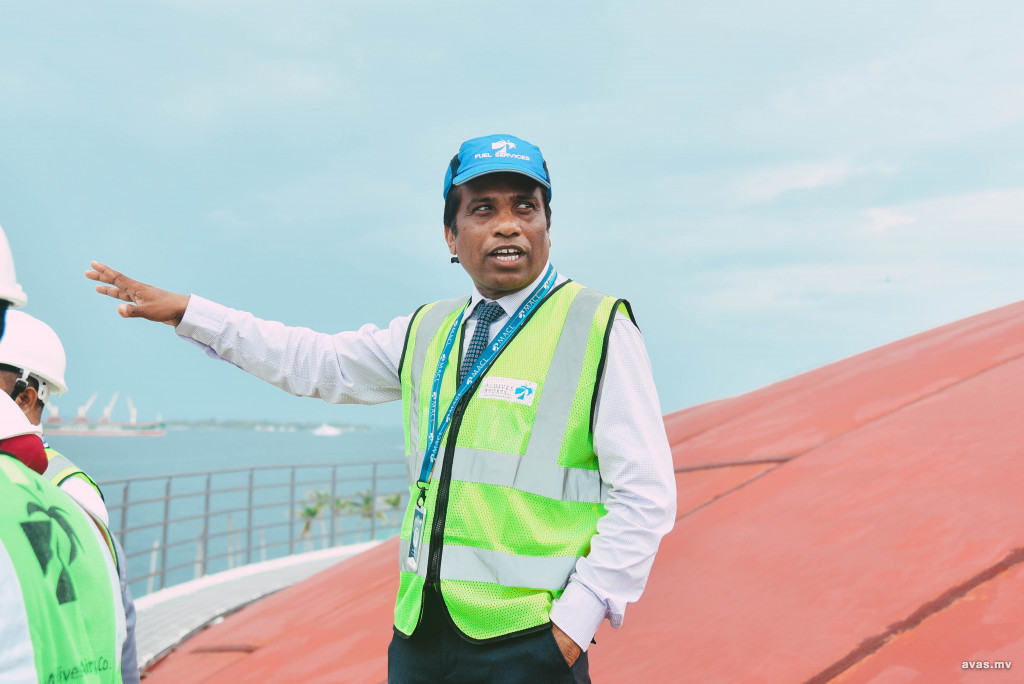 Niyaz said the fire-fighting station is equipped with modern firefighting equipment, and that salt water will be sourced from 11 meters below surface.

"These tanks contain jet fuel. Therefore, the temperature required for this can only be obtained if we draw up water from 11 meters below surface. We are unable to achieve the desired temperature if we take water from above that depth. This is why the pump station here has been designed upto that standard," Niyaz informed.

A fuel jetty to which oil tankers carrying fuel can berth at is also being established at the fuel farm. The fuel jetty can accommodate vessels weighing 45,000 metric tonnes. Once the boat is docked at the jetty, fuel will be emptied to three massive oil tank near the jetty.
The project will see a total of 3 tanks with a diameter of 37 meters in each, which will in total hold a capacity of 45 million tons of fuel. While the current fuel storage capacity of the entire airport is 15,000 metric tonnes, the same amount can be stored in each fuel tank on the farm. It is designed in such a way that additional tanks can be added when required.

While the construction of new oil tanks is now complete, the contractor has also installed connecting pipes for the supply of fuel to the sites needed areas and jet refueling stations. The pipes of the fuel hydrant cross a length of 8.4 kilometers. After the system is implemented, fuel trucks will no longer be needed to fuel aircraft.
The US$ 373 million project was contracted to China's Beijing Urban Construction Group (BUCG). The company is also developing a 3400-meter long runway under the project. The government's entire airport development project is projected to cost over US$ 800 million.