Opposition presidential candidate Ibrahim Mohamed Solih on Wednesday has promised on recovering embezzled monies from state coffers and holding those responsible for the crimes accountable at court of law.
His statement was strongly directed at the Maldives Marketing and Public Relations Corporation (MMPRC) through which large sums of money were siphoned off from state coffers to 'feed' personal motives.
While addressing the public of Noonu atoll Manadhoo, Solih also criticized the current government for their alleged wrongful transactions of uninhabited lands of atoll. According to Solih the atolls consists of nearly 50 uninhabited islands of which just a few remains unsold under shady deals.
Solih in his speech also lambasted the president Abdulla Yameen led government for its alleged acts of corruption and malpractice.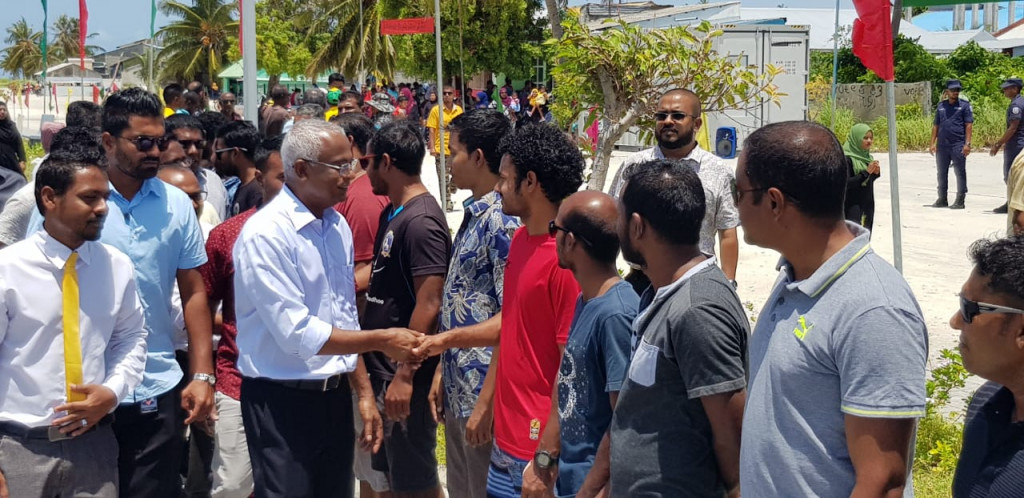 The opposition presidential candidate accuses the state has misrepresented facts regarding the embezzled money from MMPRC, claiming the actual amount siphoned off would exceed thrice the stated MVR1.2 billion.
Solih also claimed funds were 'wasted' on Dharumavantha Hospital project, which otherwise could have been projected towards housing initiatives.
Opposition presidential hopeful had urged Anti-Corruption Commission (ACC) to step forward with the truth which would undoubtedly incriminate several prominent ruling party figures and state heads.
He also bemoaned surmounting complains regarding lack of clean water distilleries and sewerage systems in local islands across several atolls. Solih also threw an olive branch at ruling party members, stating the time has come to work in unison to thwart the social cogs present in the Maldivian society.